Kids Nerf Parties
A funny twist on playground fun. You'll love it!
Book Now
Get in touch
Inflatable Obstacles & Bunkers
How we defend against Covid-19
All Around the UK
We'll arrange a venue near you or help you pick your favourite!
We'll arrange a venue near you or
help you pick your favourite!
Kids Parties
Get in touch
All-Inclusive
Top packages from £10pp. We're hard to beat.
Book Now
Pricing
How we defend against Covid-19
What are Kids Nerf Wars Parties?
Kids Nerf Wars Parties are essentially a modern version of Archery crossed with laser tag crossed with paintballing however with soft darts that do not hurt. We bring an array of Nerf Guns, ammo, army gear and of course safety equipment and run a fun-session session adapted to the customer preferences of high energy games and missions.
We work with 100's of venues across the UK so can guarantee to get you a venue within 3 miles of anywhere in the UK.
Kids Nerf Parties have been a huge success, there is no more greater fun and is an excellent way to encourage imaginative fun whilst staying completely safe. It's the latest craze and the alternative to bouncy castles, clowns, magicians & Discos etc.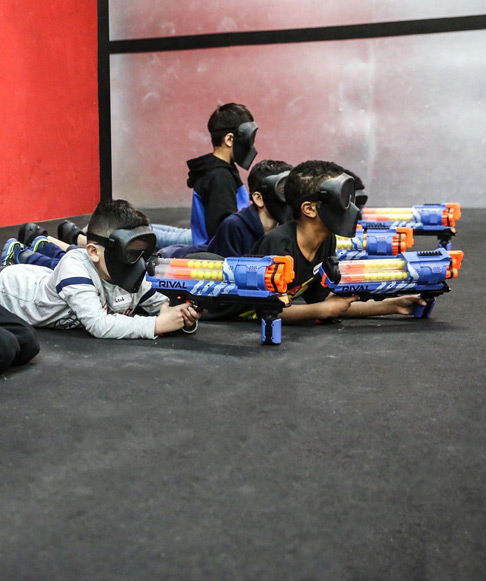 Explore kids nerf parties in the UK
Check out our promotional nerf wars videos and discover the hype.
What do Kids Nerf Parties offer?
We offer the
nerf wars games in the UK
and unlike the competition, we also offer venue-inclusive packages. The venues for playing the sport can also be suggested by YOU, which means you can hire our
nerf wars equipment
for use in your local sports centre or outdoor area.
Nerf parties offer a truly unique experience for ages 5 and above. Bunkers and barricades are inflated to provide the nerf warriors with a truly unique experience.
All players will be kitted out with N-strike nerf gear, vests, bullets, holders and protective glasses. All of our coordinators are fully trained and qualified. Our team have 4+ years experience within the events industry.
Perfect for any occasion, our nerf parties cater for birthdays, school holiday activities, team building, stag / hen do's or simply to setting a score.
Nerf parties offer various games to keep the guests entertained throughout. Classic Nerf Wars Capture the flag and team Deathmatch are all popular mini games.
We operate parties all across the UK. All inclusive nerf parties include venue hire within 1 to 3 miles of your post code. Shoot us a message and book your nerf party today - no pun intended!
All kids love a nerf war party!
We cater for all types of nerf games. You're one form away from a kids nerf war party
Claire Watts
Parent | London
"My kids had a great time nerfing. The party was run seamlessly from start to finish. The guy running the party was excellent, gave clear instructions and everyone left over the moon! Highly recommended!"
Michael Wallis
Parent | Manchester
"Do not look anywhere else for your kids party! These guys know what they are doing. The combo package of bubble football and nerf wars went down an absolute treat"
Natalie Symmons
Parent | Birmingham
"All I could hear from the kids for weeks after our nerf party was 'That was the best party I've ever been too'. Literally every time I saw any of them! Highly Highly Recommended!"